Princess Nandina
IA 244571:
(S H Carillon AHR 193250 x Squaw's Toy AHC 3672)
Registered Half Arabian (the other half is quarter horse). Bay mare born 1984, died 2015.
Nan's bay 14 year old daughter DE Nan Dinae by Placer's Gold is available.
Dinae was born April 25, 2004. She is rides best under western saddle, but has also been ridden in hunter tack.
"Dinae" is gentle, quiet, sound, healthy, and registered as a Half-Arabian. $2,000.00.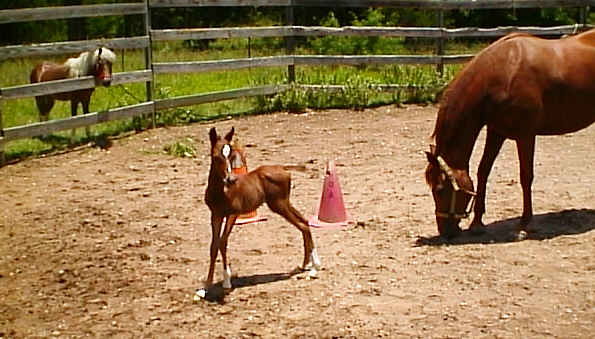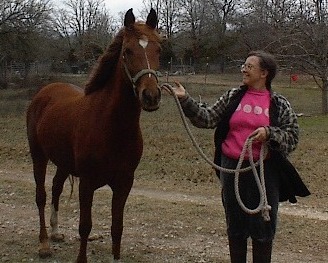 DE Desert Comet:
(Chesnaborr x DE Desert Dancer)
Chestnut, purebred mare
This small horse has exquisite bloodlines, but was stunted in early life. She was born as half of twins (her brother died), and a few weeks later her mother died as well. She is healthy and sound, but will always be small. Her 2003 foal Celeste is normal size. Comet is gentle, willing, and began her training under western saddle. Comet is currently in foal to SFF Storm Front for late summer 2011. She was bred before we gelded him - this will be his only foal. The purebred foal will be chestnut since both parents are chestnut. $3,500.00 for mare and foal, or will sell separately for delivery after weaning.